Articles(11)
Help category: Training
Access, transfer and learn about our strengths training
Select the 'Download' tab on screen and click on the blue download arrow to view your certificate.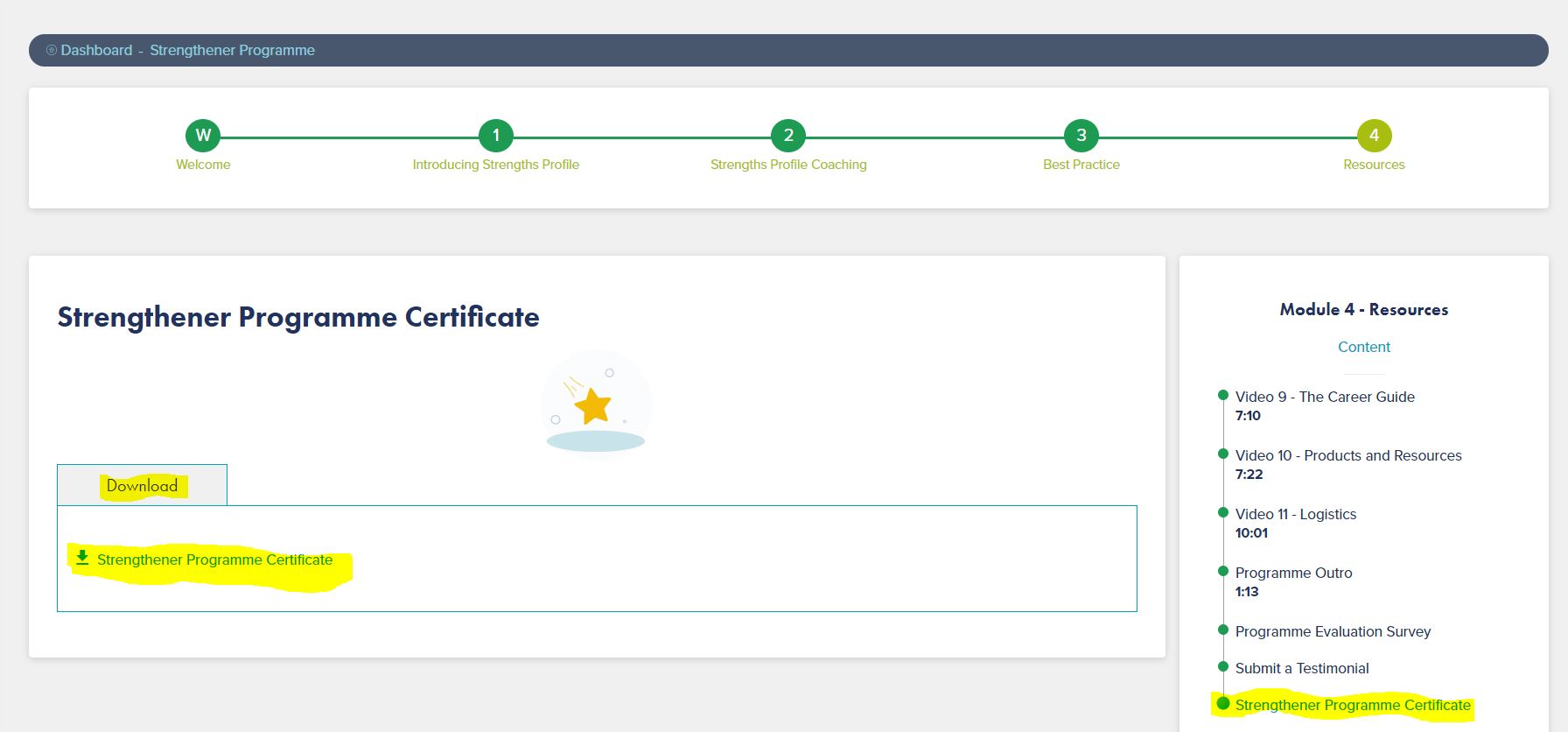 You'll be an Accredited Practitioner of the tool and can use this in your learning portfolio. You'll also have the confidence, knowledge, best practice and experience of Strengths Profile to ensure you are getting the best from the people you are working with. You will need the Level 2 Accreditation to go on to our Level 3 Master programme. You'll also receive 10% off all future Profile and Toolkit purchases.
The Level 1 Strengthener is a lighter programme which will introduce you to Strengths Profile and how to start coaching with it. It's just 3 hours in length so is designed to be a lighter programme – perhaps as a refresher, for managers or to see if strengths are for you. There is no formal assessment at the end.
The Accreditation is 17 hours of in-depth learning about the tool, it's application and demonstrations which you can complete at your convenience. There is no cut off point although we would recommend under 3 months. There is a final sign off where you will need to complete a live debrief.
Please see our training programmes for more details.
Once your accredited through your final debrief, you can download your accreditation certificate throught your Practitioner dashboard

Your certificate will then be available in your resources

Cappfinity are the strengths experts, developers and owners of the Strengths Profile tool and we have a robust technical manual to support the reliability and validity of the tool.
The Strengths Profile tool is not accredited with a third party, as there are no professional bodies with expertise in strengths to be able to accredit the tool. Established expertise for assessment accreditation, such as with the British Psychological Society, relates to cognitive assessment or personality assessment. Strengths assessment is neither of these.
Cappfinity have designed and deliver our own Accredited Strengths Practitioner programmes, which have been ongoing for the last 10 years. We have approaching 3,000 accredited Strengths Practitioners who have been through our accreditation programmes.
Book your module 8 debrief slot on the training platform at any time after Module 4. We will pair you up with another programme participant so you can both debrief each other in the presence of a Cappfinity coach. We will you to share your Profile with the other participant and introduce you.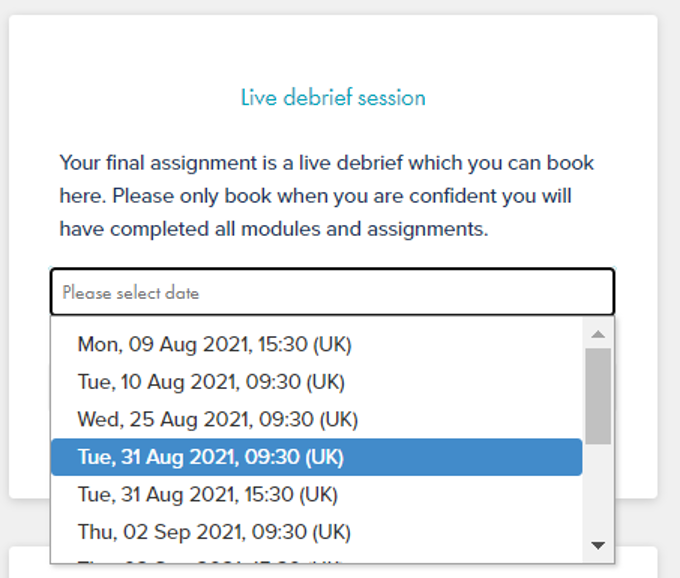 Once you have booked you will see this confirmed in your dashboard. your debrief slot you will see a notification asking if you wish to re-book your live debrief. Please note, we ask you consider carefully before doing so as you may disappoint your partner if you have already been paired up.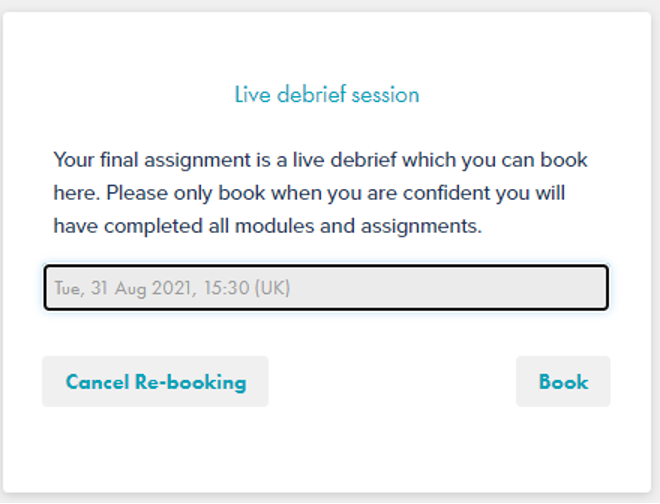 Yes. If you have bought a training programme for someone else or many people, use the 'Invites and Transfers' and Transfers to forward this on via an automated email from our platform. Please note you can only transfer 1 product at a time. The recipient will receive an email to accept the transfer and they can begin the training.
Go to your dashboard and select Invites and Transfers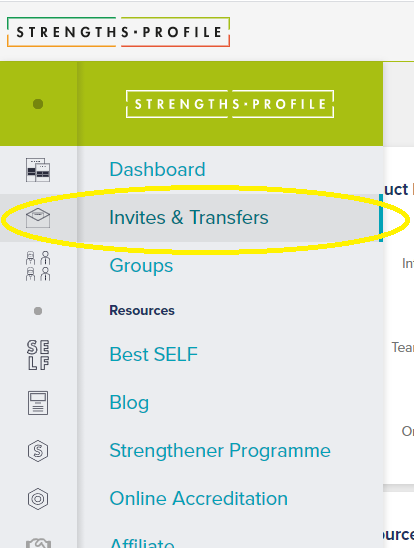 Click on the transfers tab.

Then click on Transfer a Product. You will see the transfer window.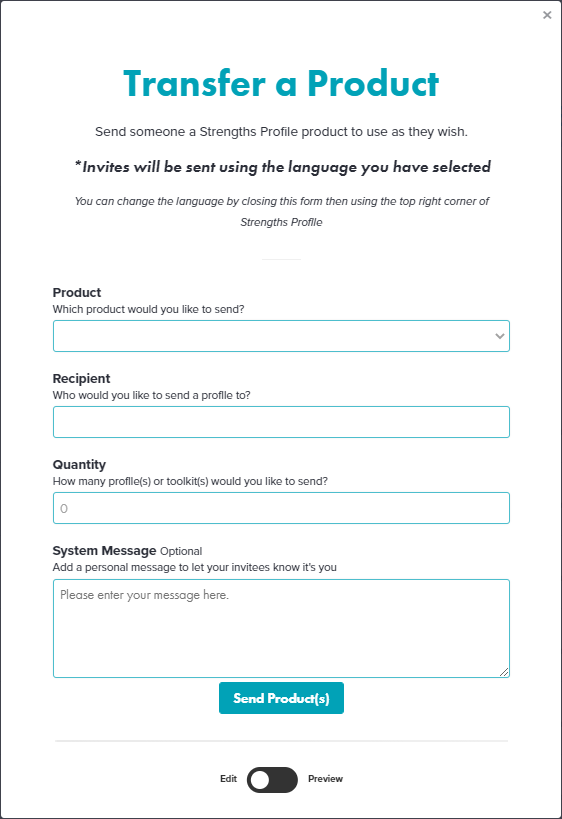 To transfer a product using this window you would typically
Select a Product; All training can be transferred this way - select the one you have purchcased, i.e. Strengthener or Online Accreditation
Enter a single email address, this will be the recipient.
Enter the number of uses of the product you want to transfer.
Enter a targetted email to the recipient.
Toggle to preview to check the format of the email your recipient will receive (DO NOT click on Accept Transfer Request)
Toggle back
Click on Send Product
The training programme will remain in your account until the moment your recipient accepts the transfer, at which point they will appear in their account. They will then see this in their Practitioner dashboard and be able to start the training immediately.
Note that you have up to the point the user accepts the transfer to be able to cancel the transfer.
For online training purchased online you will have immediate access to the programme in your left-hand menu of the dashboard. Click on the programme (e.g. Strengthener Programme or Online Accreditation) to unlock it for yourself and start.
If you have purchased them through Cappfinity, we will transfer you a training programme via email. Please accept the transfer and either start the programme yourself (see above) or transfer on to your recipients.
Anyone who wants to help others be their best SELF so is ideal for coaches, educators, HR/L&D professionals and managers.
The Strengthener and Accreditation have no pre-requisite to attend as they teach you about the Strengths Profile product and how to use the tool to coach.
With the Master programme (Level 3 coming in Autumn 21) you will need to have completed the Accreditation (Level 2).
Within each training programme you'll receive additional materials such as a workbook, certification and Profile(s). Please see our training programmes for more details.
No, you can still buy Profiles. We don't make it compulsory, but it certainly helps you embed the strengths approach with your clients and teams with full knowledge of best practice and application. If you already use similar assessments, you may consider The Strengthener Programme or one of our Toolkits.