Articles(7)
Help category: Groups
Looking to organise and support a group of people? Learn how
To add existing members to a group, follow the steps as below:
1. Login to your account and Click on Your Name (Top right-hand corner)and Select Dashboard
2. Hover over the
(top-left corner)
3. Select Groups and click on View Next to the group you want to add members to (screenshot as below)
Click Add Members - This will then bring up a new page as screenshot below
,
4. Add existing contacts with Profiles into a new group
To add people who are already existing contacts, tick the box next to their name (you can choose more than one at a time). Then press Save Changes. If they have a completed Profile they will be asked to give permission via email. Once they have done this you will see their Profile.
5. To add new contacts - including those already with an existing Profile you wish to view
Click Send An Invitation
Enter each email address separately of the people you want to add to the group
Then click Add (screenshot below)
6. In the next screen there are different options to choose from, here you will need to select:
Profile Type - None is used if you want to add them to the group and view their existing Profile - even if the Profile was not one you have originally sent
Withhold? - tick the box to withhold the profile for 30 days (you can unlock it before this if you wish
Career Guide - untick if you do not want them to view their career guide (this can be added after if needed
Remove icon - click if you have made an error and no longer wish for that person to be added.
Once you've added all email addresses click Send Invitations
Each user selected will be asked to consent to you viewing their existing Profile or if they are a new user they will be sent the Profile you have selected to send.
Shareable code is a link that can be used to invite multiple users to your group through an email.
This type of invite is meant to be given to people who once accept the invitation become members of the group. Accepting the invitation means that users will consume one use of a given type of profile Introductory or Expert from the group balance. Please be sure that group balance is topped up before sending shareable code to your invitees.
When using shareable code, the admin of the group can specify additional settings that include:
option to withhold profile results for invited users
option to disable career guide section from profile results
email masks of users allowed using shareable code
Admins are able to rename code to more friendly name by using rename option.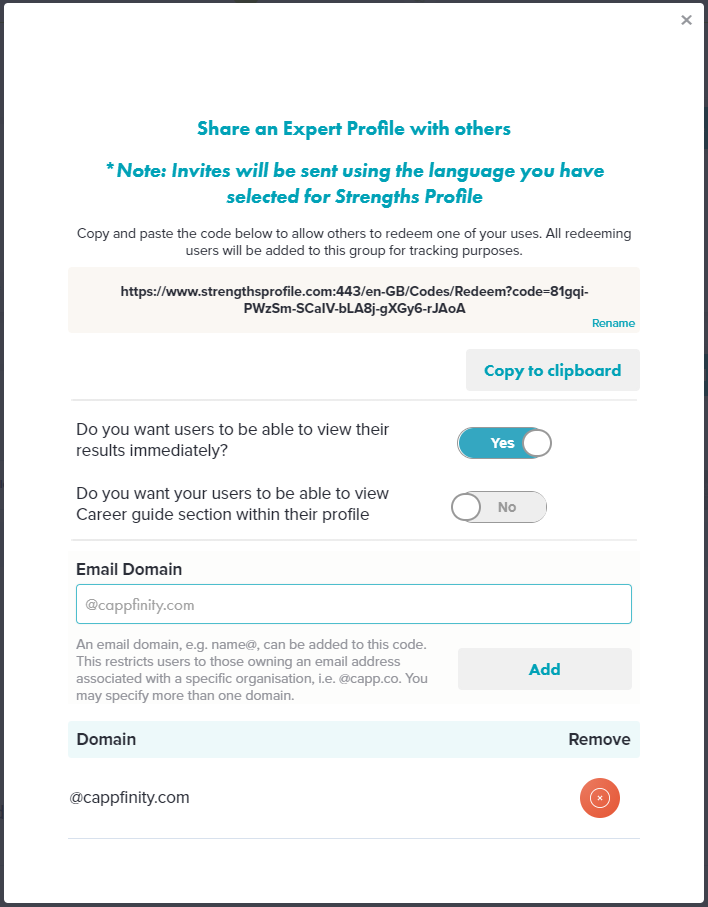 Manage Uses is Strengths Profile's system that allows you to transfer profiles that you currently own in between your personal account and your groups.
Steps
Log into your account (If not already logged in)
Click your name in the top right hand corner and "Dashboard"
Click The Four People (Groups) from the left hand menu
Search for an existing your group, on the right hand side under Action column click View
At the top of the page you will see "Balance"
Click the "Manage your Uses" button
Use this wizard to transfer between personal balance and group balance.
Follow the same steps once you have created a new group to transfer Profiles into this new group

To add to group balance, go to your group home page by using group search page. Click on Manage your uses button which will take you to balance management page.

You can now use left and right arrows to move profile uses from your personal account balance into the group balance. Once you are done with your changes click Save Changes and your group balance will be changed.

To rename a group, go to the group home page by using group search page. Click on the Edit button above group details panel and enter new details for your group. Click Save button to confirm the changes.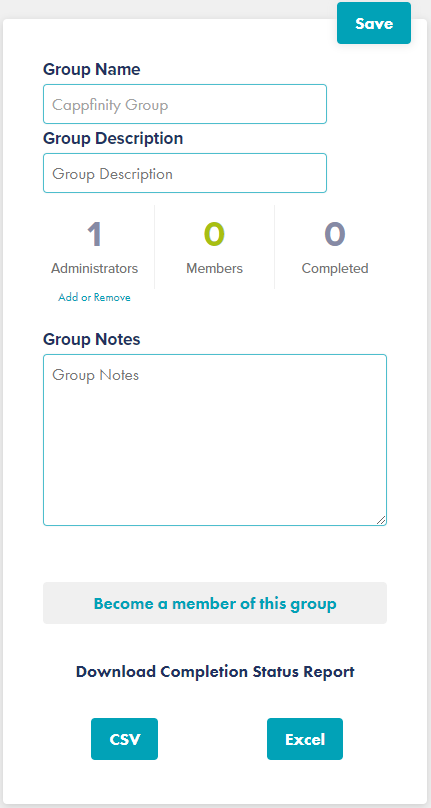 To add existing members to a new group:-
Log into your account and go to Dashboard.
If you inviting people to take their Profile please ensure you have enough Profiles available through 'Manage Your Uses'
Go into Groups on the left-hand menu and select the Create Group button.
Enter the details of the group.
You will then be able to select existing members to add to this group
To add new members to an existing group:-
Log in to your account and go into your Dashboard.
Go into Groups on the left-hand menu and select an existing group by clicking on view
Click Add Members button.
If the invitee/s is in your existing contacts, this will appear. If the person you wish to invite is new to Strengths Profile, select the Send an Invitation button.
Enter the invitee's email address and click Add. You can enter multiple email addresses at one time by putting a comma between each address.
If you enter the email wrong, click the red Remove Email button under action.
Select which Profile you would like to send each invitee and if you would like to withold their results from them.
Then select send.
Group is collection of related users of Strengths Profile.
Groups can be created by any user of Strengths Profile who wish to manage and send out Profiles to others.
Groups provide an easy way to invite multiple people (through the shareable code) and easier filing of Profiles.
The user who creates a new group automatically becomes the first admin of that group and can invite others to help with group administration.
You can create a group to:-
Organise your Profiles into manageable size or relevant groups or teams, i.e. finance team, coaching workshop
You can set up a group to get a 'shareable code' so you can send out one code to multiple people - via your own email
Create a Team or Manager Profile from that particular group
Go to the Group page by clicking on Manage your Groups or select Groups from the left-hand side menu
Click on the Create Group button
Follow the steps. Here you'll be asked to enter the name of your group, transfer uses into your group from your personal account and select members from previously known or new contacts to add into your group (you can choose to skip adding members if you wish to do this at a later date).