Articles(4)
Help category: Profiles
Not sure which Profile is best suited to your needs? Let us aid you in making your decision.
After the process of purchasing a profile is completed, there will be a button that will display on the page which will indicate go to dashboard. Depending upon whether you are a Practitioner or an Individual will depend on which dashboard you use.
For Personal Dashboard you will see a button which will allow you to start the assessment.
For Practitioner Dashboard you will see in My Product Balance above the purchased profile name is the number of profiles you currently have in your balance.
Steps
·
Log Into Your Account (
if not already logged in
)
·
Click
your name
in the top right hand corner
·
Once in the Dashboard scroll down to
Profile

Timeline
·
In the Profile Timeline you will see "
Take A New Profile
"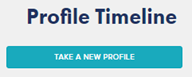 You purchase your profile, of which you will Not recieve a code. Upon successful purchase you can navigate to your dashboard (Once logged in). In the dashboard if you scroll down to the Profile Timeline there will be a button that states "Take a new profile", clicking this will redeem your recently purchased profile.
Steps
Log into your account (If not already logged in)
Click your name in the top right hand corder

Click on "Dashboard"

Once i nthe dashboard scroll down until you see Profile Timeline
Underneath the header you will see "Take a new profile" button

Click this to start your assessment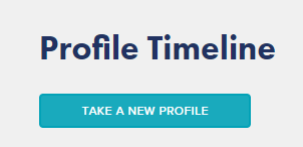 There are 2 ways to send a Profile to someone and 1 way to give away your purchases to someone else;
Invitation - Inviting somebody to take a profile means that you can see their results. To learn more about sending invitations, please see How to send an invitation
Shareable Link - a shareable link allows you to bulk invite a large number of invitees to a group. Each group receives a unique code, which they can send out themselves to their members to redeem. To learn more about sharable links and how to send them, please see Sending a shareable code
Transfer - Transferring profiles means you give complete ownership of the profile to another user. To learn more about transferring profiles, please see How do I transfer uses of a product to someone
Your assessment is downloadable through you dashboard
Viewing your Own assessment.
To view your own assessment: log in to your strenths profile account
Click Your Name (Top right-hand corner)
Then Select Dashboard
Your assessments will then show as in the example below
Your most recent profile will be shown on the left side, you are able to download the full profile including your potential and careers guide if permitted.
On the right side you can download additional sections of your profile seperately.
For instance if you have an Expert profile you can also download an Introductory profile.
You may also download the full 'Your Potential' results and the full 'Careers Guide' results if you are able to see these.
Viewing someone else's assessment.
Once you've intvited a user to take an assesment, you can download their completed report.
If you login to your strengths profile account
Click Your Name (Top-right corner)
Then Select Dashboard
Then click on the (top-left corner)
Select Invites & Transfers
In the invites list you will see a column labeled Status.
The status column will determine if the user has;

accepted the invitation
started but not finished (Pending) the invitation
completed their profile.

To view the completed report click View