Help article: Invites
Looking to help others unlock their potential? Send them a Strengths Profile!
---
How do I send a personal strengths invitation to others?
Ensure you have Profiles in your dashboard ready to sent
From your dashboard page you then select Invites and Transfers.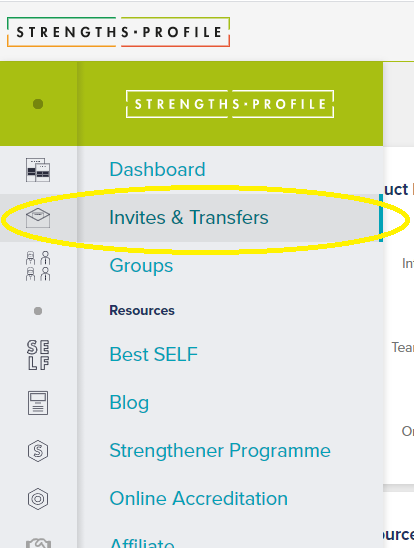 The Invites and transfers page shows you the Product uses you own, and allows you to Invite users to take a Profile

Ensure that Invitations is underlined, then click on Send an invitation.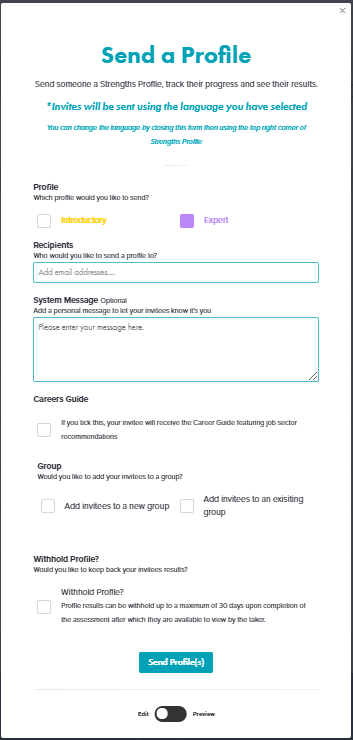 Select the Profile you wish to send.
Enter the email address(es) you want the profile(s) to be sent to. Add an optional message if you choose.
Switch the Career Guide on should you wish the user to receive this (no additional charge)
Add them to a new or existing group should you wish to. By not doing adding them to a group the invite remains in your personal invites page.
Choose to withhold the results of the Profile assessment for up to 30 days. This feature is to allow you to prepare a brief for the user at which point you would reveal their results to them.
You can preview the message that will be sent to the recipient(s) by toggling the edit/preview switch.
Send the Profile(s) by clicking on the Send Profile(s) button.
The invites will appear in the 'Your invitations' section of the Invites and Transfers page, when the Invitations tab is selected.
Your uses of a product will not be adjusted until the emails have been accepted by the recipient(s). You have up until this point to be able to cancel the invitation to any user by selecting Cancel Invitation in the more options function.