Help article: Invites
Looking to help others unlock their potential? Send them a Strengths Profile!
---
How do I send an invitation
To send a personal invitation you must have uses of a product available and be in your dashboard.
From your dashboard page you then select Invites and Transfers.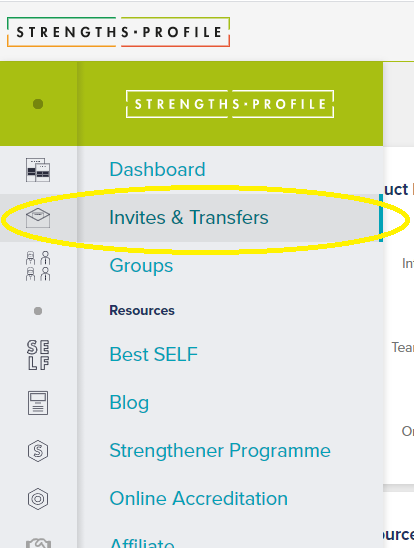 You will now be shown the Invites and transfers page.
This page shows you the Product uses you own, and allows you to Invite users to take a profile.

You should ensure that Invitations is underlined as above, then click on Send an invitation.
Once you have done that then you will be shown the Invite configuration window.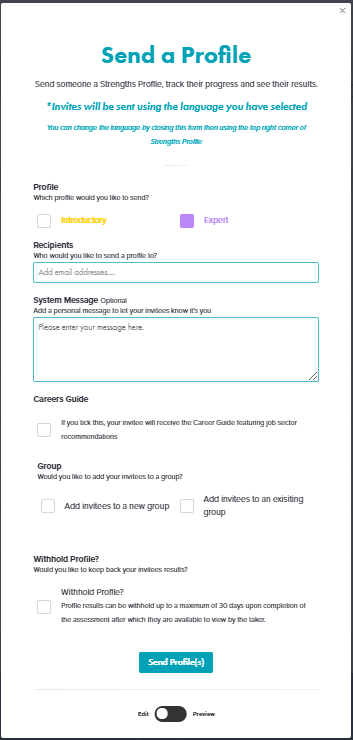 Using the window shown above, you can select whether you want to send an Introductory or an Expert Profile.
You then enter the email address(es) you want the profile(s) to be sent to.
Next you can add an optional message that will appear in the email you send to the recipient(s)
There follows a checkbox to allow you to insert a Careers Guide section into the sent profile results, or not as you require.
You can specify a Group from this window, in doing this the invite(s) will be inserted into an existing group which you may select, or a new group you can create at this point.
Not selecting these group features will mean the invite remains in your personal invites page.
You can also check the box that allows you to withhold the results of the profile assessment for up to thirty days. This feature is to allow you to prepare a brief for the user at which point you would reveal their results to them.
If you want to, before you send the profile(s), you can preview the message that will be sent to the recipient(s) by toggling the edit/preview switch.
Once all is complete, you can send the profile(s) by clicking on the Send Profile(s) button.
Each of your invite adresses will appear in the 'Your invitations' section of the Invites and Transfers page, when the Invitations tab is selected.
Your uses of a product will not be adjusted until the emails have been accepted by the recipient(s) of the profile uses.
You have up until this point to be able to cancel the invitation to any user by selecting Cancel Invitation in the more options function.